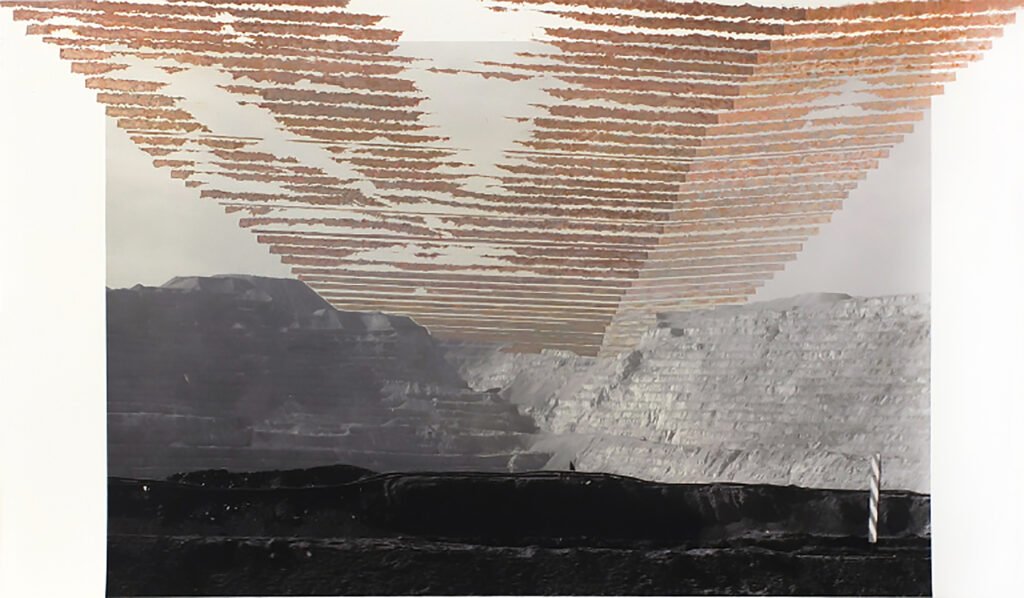 Paisaje expandido, paisaje contenido IV
Expanded Landscape, Contained Landscape IV
2016
Oil on photographic print
Essex Collection of Art from Latin America

Jaime mixes the medium of photography and painting to contrast images of modernity and tradition, staging tensions between expansion and containment. Here, the photograph (a modern technology) depicts an industrialised landscape, intervened by an oil painting (a more traditional method) resembling a sacred "indigenous" temple. The work explores artificially imposed dualisms such as nature/culture and modernity (the West)/tradition (the indigenous), deliberately blurring their boundaries. Depicting the Chuquicamata mine, in northern Chile, the photograph presents a documentary view of the scale of human transformations associated with the Anthropocene, while the painted lines subtly reference the aesthetic traditions associated both with monumental architectural forms and the tradition of landscape painting associated with foundational views of Latin America as it was conceived through the lens of extractivist-colonial paradigms.

Alejandro Jaime
Peru, 1978
Alejandro Jaime is an interdisciplinary artist and lecturer in painting at the Pontificia Universidad Católica del Perú in Lima, where he also studied a Master's degree in History of Art and Curation. His art practice explores the marks of human intervention on territory and the different ways of making landscape. He has completed residencies in Argentina, Mexico and Spain and has exhibited work in South Korea, Canada, Colombia, Germany and Guatemala,among other countries. His work is represented by the Essex Collection of Art from Latin America (ESCALA) at the University of Essex, where in 2019 he collaborated with Lisa Blackmore on a research project on the River Colne, which resulted in the solo show Aggregate Flows at Art Exchange. In 2019, he also participated in entre—ríos' first collective residency in Bucaramanga, Colombia.
.
Live Streams is curated by Lisa Blackmore (School of Philosophy & Art History and the Centre for Interdisciplinary Studies, University of Essex), Diego Chocano (Assistant Curator of Essex Collection of Art from Latin America/University Art Collections) and Emilio Chapela (Artist and Research Assistant at the University of Essex). This website was built by David Medina.

Art Exchange is the University of Essex's on-campus gallery dedicated to exhibiting contemporary art from emerging and established international artists. It is directed by Jess Twyman.