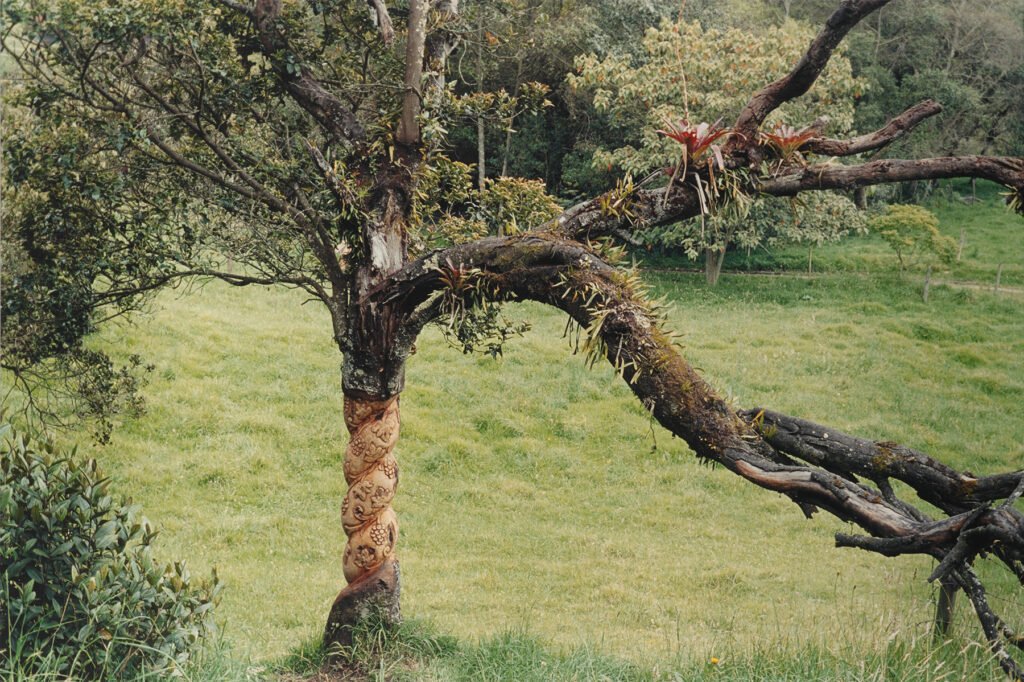 Sin título (de la serie Nueva Flora)
Untitled (from the New Flora series)
2003
C-Print on laminated photographic paper
Essex Collection of Art from Latin America

Escallón photographs trees that have been carved with motifs from traditional and colonial furniture. Over time, these trees will grow and their trunks will change with the influence of other flora and fauna. The artist depicts a space where the "wild" and the managed come together over time, where nature and culture are inextricably bound. Escallón raises questions about conservation and the artificially imposed boundaries separating humans from other forms of life. This photograph captures the tree shortly after its carving, however, the artist continues to capture images of the tree as it grows and exerts its own influence over the carvings, making it an active participant in this artwork.

Maria Elvira Escallón
England, 1954
Maria Elvira Escallón is a Colombian artist who employs the mediums of photography, installation and sculpture to explore the relationship between nature and culture. Escallón's practice is research-based and emphasises the importance of art-as-process. She has exhibited widely in Colombia as well as at the Photographer's Gallery in London and the Station Museum of Contemporary Art in Texas. Her work is represented by the Essex Collection of Art from Latin America (ESCALA) at the University of Essex.
.
Live Streams is curated by Lisa Blackmore (School of Philosophy & Art History and the Centre for Interdisciplinary Studies, University of Essex), Diego Chocano (Assistant Curator of Essex Collection of Art from Latin America/University Art Collections) and Emilio Chapela (Artist and Research Assistant at the University of Essex). This website was built by David Medina.

Art Exchange is the University of Essex's on-campus gallery dedicated to exhibiting contemporary art from emerging and established international artists. It is directed by Jess Twyman.