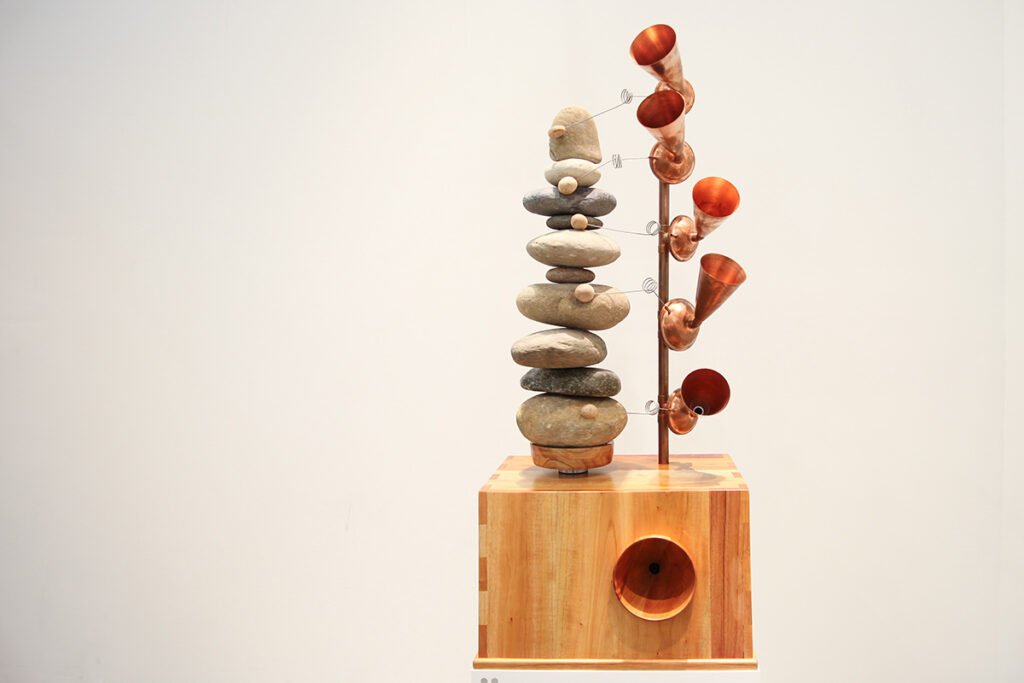 Canto de las abuelas
Grandmothers' song
2021
Three-channel audio-visual installation

"Rocks, for many indigenous communities, are the grandmothers, since they preserve in their harsh silences the prudent voice of the times; the song of these geophonic beings allows us in this space to purify our own waters. By accelerating the rock, making it turn on its own axis and amplifying its sounds, millions of years of geological actions give off the creative vibrations of a universal harmonic mineral composition, music softens the rock, while rotating the rock wears out, that's the same that the river has been making before we emerged into this world, a boulder." This is how sound artist Leonel Vásquez describes his collaboration with stones picked from healthy and ailing rivers across Colombia. For his audiovisual installation, these stones (fragments of deep geological time) are cleansed, cared for then set to spin on gramaphones-of-sorts that the artist builds to liberate the grandmothers' songs in high-pitched tones. The sound installation projection invites the public to immerse themselves in this river of sound.

Leonel Vásquez
Leonel Vásquez
Colombia, 1981
Leonel Vásquez is a sound artist and art lecturer at the Universidad de Los Andes in Bogotá. His practice explores sound as a substance that moulds sensory experience through vibrations that travel through space and acquire the form of sculptures, audio-visual installations and sonic architectures. Vásquez develops ways of building space, artifacts and experiences that focus on listening in surroundings of social and environmental conflict. His work explores the silence and memories of water-landscapes, sub-marine sounds and the democratisation of underwater listening. He has worked as a researcher and cultural manager for projects with the Radio Nacional de Colombia and the Ministry of Culture. He has exhibited work at the Festival de Arte Sonoro Tsonami in Chile, the Open Art International Biennial in Sweden,and has completed numerous artist residencies.
.
Live Streams is curated by Lisa Blackmore (School of Philosophy & Art History and the Centre for Interdisciplinary Studies, University of Essex), Diego Chocano (Assistant Curator of Essex Collection of Art from Latin America/University Art Collections) and Emilio Chapela (Artist and Research Assistant at the University of Essex). This website was built by David Medina.

Art Exchange is the University of Essex's on-campus gallery dedicated to exhibiting contemporary art from emerging and established international artists. It is directed by Jess Twyman.